XProtect® Corporate
Advanced surveillance solution
The ultimate software for video surveillance in large-scale and high-security areas, such as airports and city surveillance.
High-performance IP video management software
XProtect Corporate is powerful IP video management software (VMS) designed for large-scale and high-security deployments. Its single management interface enables the efficient administration of the system including all cameras and security devices regardless of its size or if it is distributed across multiple sites. For systems demanding supreme situational awareness and precise response to incidents, XProtect Corporate features interactive maps linked to alarms and included support for XProtect® Smart Wall. XProtect Corporate provides the ultimate system reliability for high-security installations. Edge Storage support combined with failover recordings and redundant management servers ensure video recordings are never interrupted.
---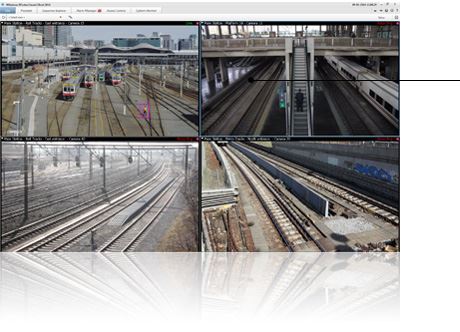 Reliable high-performance surveillance software
Hot standby Recording Servers: Maintain video viewing and recording capabilities with minimal interruption and video loss in the event of network problems, server failure, loss of power or any other system problem
Edge Storage with flexible retrieval: A redundancy option that ensures continuous recording of video. Recordings can be retrieved from camera storage based on time schedules and events
Video storage monitoring: Easily detect deviations from defined storage policies in situations where video data is overwritten prematurely due to insufficient physical storage
---
Ideal for large-scale and distributed surveillance operations
Unlimited system scalability: Supports an unlimited number of cameras, users and sites
Centralized single management interface:Provides efficient system administration of all connected cameras and devices, regardless of system size or distribution
NEW – Customizable user interface: Optimize system management interface for different roles and level of administrative users
NEW – Advanced rights management: Supports inherited user rights and the ability to assign partial management rights
Milestone Interconnect: XProtect Corporate can interconnect with all XProtect VMS, Milestone Arcus and Milestone Husky products providing central operation and cost-effective management of geographically dispersed surveillance sites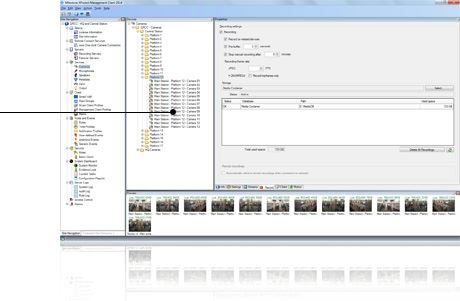 ---
Features for effective live monitoring
Multi-layered maps: A comprehensive overview of cameras and layouts of the entire surveillance installation allows for quick detection of trouble areas
Alarm Manager: Provides a consolidated overview of security and system alarms for immediate visual verification
XProtect Smart Wall: Advanced video wall solution included with the software. It displays live video from any combination of cameras in the system and allows operators to coordinate response activities
Bookmarking:  Flag video sequences of particular interest and add descriptive notes, enabling users to easily share information and increase efficiency in investigating incidents
Advanced search tools: Smart Search and Sequence Explorer allow users to quickly sort through large amounts of evidence
---
Secure and efficient video handling
High-performance Recording Servers: Multi-stage video storage including video grooming possibilities provide efficient long-term storage, while all video remains online
NEW – Evidence Lock: Secures availability of recordings for investigations by allowing users to manually extend the retention time by overriding the normal video archiving and grooming policies
Video database encryption and digital signing:Confirms exported video has not been modified or tampered with when played back by law enforcements and public authorities
Strict user rights:  Protect the integrity of live and recorded video by restricting permission to specific cameras, functions and time periods or controlling individual user access
NEW – Metadata framework: Features generic framework for handling and storing video-related metadata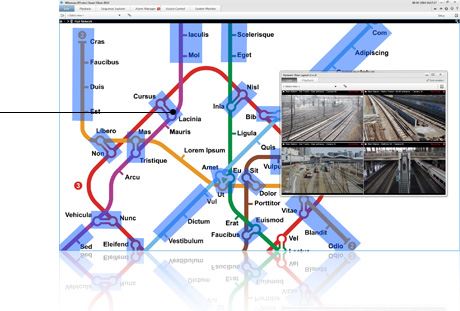 ---
Enhance XProtect Corporate with a wide range of third-party integrations
XProtect Corporate works with the industry's widest choice of hardware for effective surveillance, including cameras, encoders, DVRs and joysticks. XProtect Corporate integrates with a wide range of third-party software applications and together they can help solve all of your video system challenges.